Professor J.H. "Trader" Slick is the travelling and stationary merchant dealer of "Jumanji", who appears frequently in the animated series and also in the 1997 Hasbro LCD game.
Personality
Slick is the wicked merchant of "Jumanji", who sells items to anyone who can meet the terms of his transactions, and has been known to sell simple tools to rare and powerful artifacts to a vast clientele throughout the series. He lives and sells his wares at a trading post located at the heart of the jungle. He always says his whole name when introducing himself, but his middle name changes a lot of time. Some of the items he has sold include a rare paint he tricked Alan into buying, the Slickomatic, a giant potion to make Peter grow and later the antidote, the ChronoRepeater, a "Get Out of "Jumanji" Free" Card that only worked once, a love potion for Judy, and even a motorboat which allows Peter and Judy to return to their time. If necessary, he becomes a real danger to the trio, but his biggest part in the series is just a sly, cunning swindler a.k.a. "Honest John Dealership".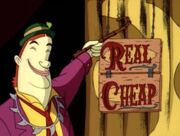 As Trader Slick is devoted to his enterprise, even going easy on first-time customers and ensuring his store is often open at all hours unless he is travelling or imprisoned somewhere else. The main downside to Slick's items is that he will not part with anything so easily without receiving something valuable to trade. The second downside is not everything for sale is always as they seem and may end up resulting in no-one's satisfaction guaranteed but Slick's own. Slick's shop can be conveniently found by anyone intentionally; When the Stalker approached Slick to employ him for an important mission, and when various villains of "Jumanji's" community gathered to attend Slick's auction for the Trans-Vector due to their common hatred for the trio. Slick, like everything else in "Jumanji", was terrified of the imposing Stalker and did whatever the grim reaper told him out of fear, but clearly tried to avoid having anything to do with him as seen when, upon approaching the Bog of despair (where he dwells) Slick retreated to the point of cancelling his trade with the kids altogether.
Episodes of Jumanji
Trivia
J.H. "Trader" Slick always changes his initial abbreviations every time the trio encounter him, but always keeps the J & H, which is a reversed abbreviation of Honest John, hence his style of dealership.
Slick's role as the main "Jumanji" merchant was later given to the Bazaar seen in Jumanji: Welcome to the Jungle.
Gallery
Community content is available under
CC-BY-SA
unless otherwise noted.